Not that Bloomsday Book
Trying to find time for a Wild Gees get-together has been a challenge but we managed a whole 48 hours recently to squeeze in some adventures. Day 1 began with a walking tour of Dublin 8 which coincided with Bloomsday, though despite an occasional reading from said tome, this was resolutely not a Bloomsday tour. It was focused on working class histories of the sort that rarely get a look in on Dublin city tours. We were particularly interested to hear some of the lesser-told stories of women. As we passed St James' Gate, we were told that Guinness was a good employer who paid well and, importantly, paid a widow's pension if a worker died. "Marry a Guinness man, he's as good to you dead as alive" was a refrain of young women who had few options to be independent of men financially and widowhood could reduce them to abject poverty. Not that marriage was necessarily a solution to poverty as it brought the likelihood of too many children and not enough wages. Streets like Meath Street, Brabazon Square and Reginald Street are called after a philanthropist who built housing and funded sanitation in this part of Dublin. A more equitable alternative might have been a social safety net funded through taxes rather than being reliant on wealthy people feeling generous. But then who would we name the streets after? 
We discovered that Dr Steevens' Hospital, though named for a man, was founded by a woman: Grizell Steevens. To the city's population at the time, it was known as Madame Steevens' Hospital. Grizell had the hospital built in honour of her late husband in 1723 and lived out the rest of her days in apartments attached to it. Dublin 8 is also home to the Coombe Hospital, which was founded by Margaret Boyle in 1826, though apart from a will in which she makes clear she has given enough to the hospital over the years, no one seems to know much about her. So she has no Wikipedia article – something we hope to address at some point.
In keeping with the theme of women founding Dublin hospitals, this same week a plaque commemorating Dr Kathleen Lynn and Madeleine ffrench Mullen, founders of St Ultan's Hospital. was unveiled on the site of the former hospital in Charlemont Street. The Her Keys to the City book was also launched this week by Clodagh Finn and Lord Mayor Alison Gilliland, and features this revolutionary, LGBT couple. Sadly we missed both events but we did order the book and weren't waiting long to receive it. It's a wonderful realisation of a project so overdue, to give women who contributed so much to Dublin some posthumous recognition. It is also a beautiful thing to own, full of stories and anecdotes from families, friends and colleagues, not just the facts of their achievements.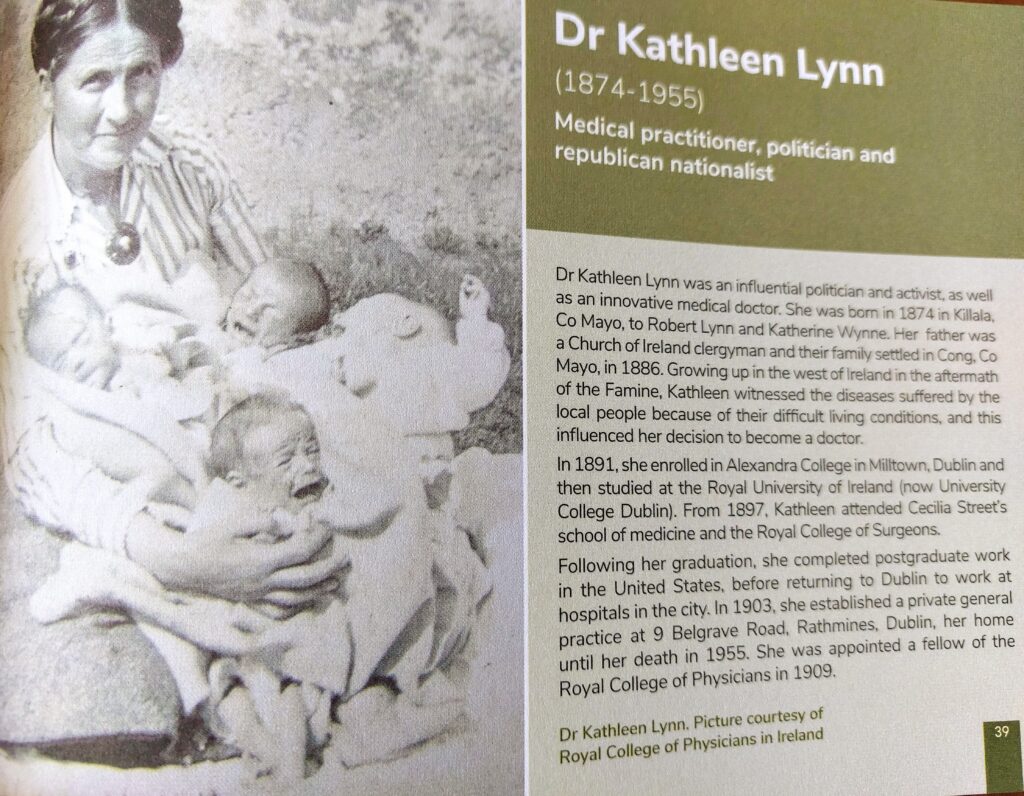 During the tour, we also discovered that Sinéad's dad and Gill's mam were born on the same road in Dublin 8, Clarence Mangan Road. Both have recently passed away and we regret not having known this when we were able to chat to them about it. Subsequent Whatsapp chats with Gill's uncle suggest that they may not have known each other, living at different ends of a long road and going to different schools. But it feels like an important connection.
That isn't even the most exciting part of the tour, which is not a Wild Gees event but part of a conference we have gatecrashed because Sinéad is one of the speakers and as part of this, another exciting book was launched – hers! Not Wild Gees-related but we're making a shameless plug anyway. New Cartographies, Nomadic Methodologies contains a chapter in which Sinéad is interviewed about her artistic practice. We're not suggesting you buy it (unless you really want to) but we're very proud of her.