A Sheela no Gig at Stepaside
A theme emerging in our encounters with Sheela na Gigs is that they usually have a guardian. Some usually unappointed person who has taken on responsibility for protecting the lore around the Sheela, and in some cases the Sheela herself, and guiding those interested to where she may be found. Another theme is that we are often one of a handful of people who come looking for her. We have conflicting feelings over this. Outrage that so few people seem to know about this fascinating and profane part of our heritage but also secretly enjoying that rare and privileged access.
At Stepaside golf course (the public one to the left as you drive from Dublin, not the private one to the right. We'll save you from that detour) we are introduced to Brendan the groundskeeper and guardian of this Sheela, which is described on Jack Roberts' map as "a very unusual figure". Brendan tells us that usually only one or two groups each year have come looking for her but this year there have been three so far. For some reason, many of them are coming from outside Ireland so it doesn't represent an increase in awareness of Sheelas among Irish people.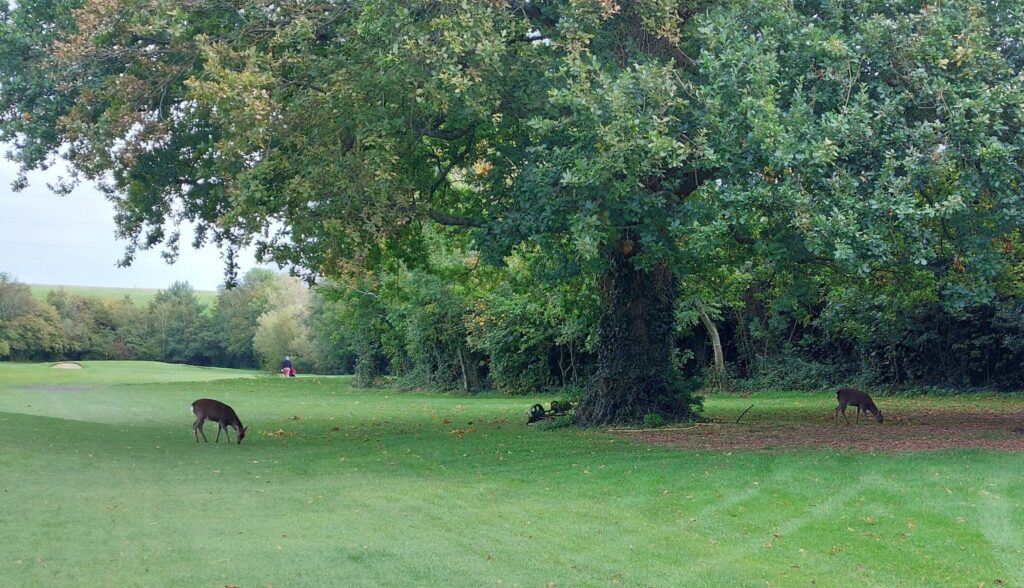 As we walk from the clubhouse, Brendan gives us a history of the land. It belonged at one point to Kilgobbin House, then it was a Hughes dairy with grazing cattle until 70-80 years ago. It was bought by what is now Dun Laoghaire Rathdown Council and is currently a municipal golf course. Throughout these incarnations, the Sheela and the land around it have been respected and left undeveloped. Though there is the possibility that she isn't in her original position and was moved here by a farmer to land that would be easier to leave untouched.

She is situated beside a river on what may have been an ancient roadway to Dublin or a pilgrimage route. Brendan mentions a possible connection to Saint Kevin. The ground beside the river is flat, with a bank on one side and what may at one point have been a wall, creating an avenue. As we turn into the glade, there is a palpable change in energy. It is duller, quieter, slightly eerie, with tall trees creating a dappled light. A stone or grave marker in the shape of a cross is suddenly very apparent. What looks like a grumpy Sheela with hands in position is etched on one side and a circle on the other. On old maps, it is called St James' Well but the large stones over a long rectangular ditch give more of a sense of a tomb. It has been described by historians as "a rude crypt lined with undressed boulders" (Daly, 1961).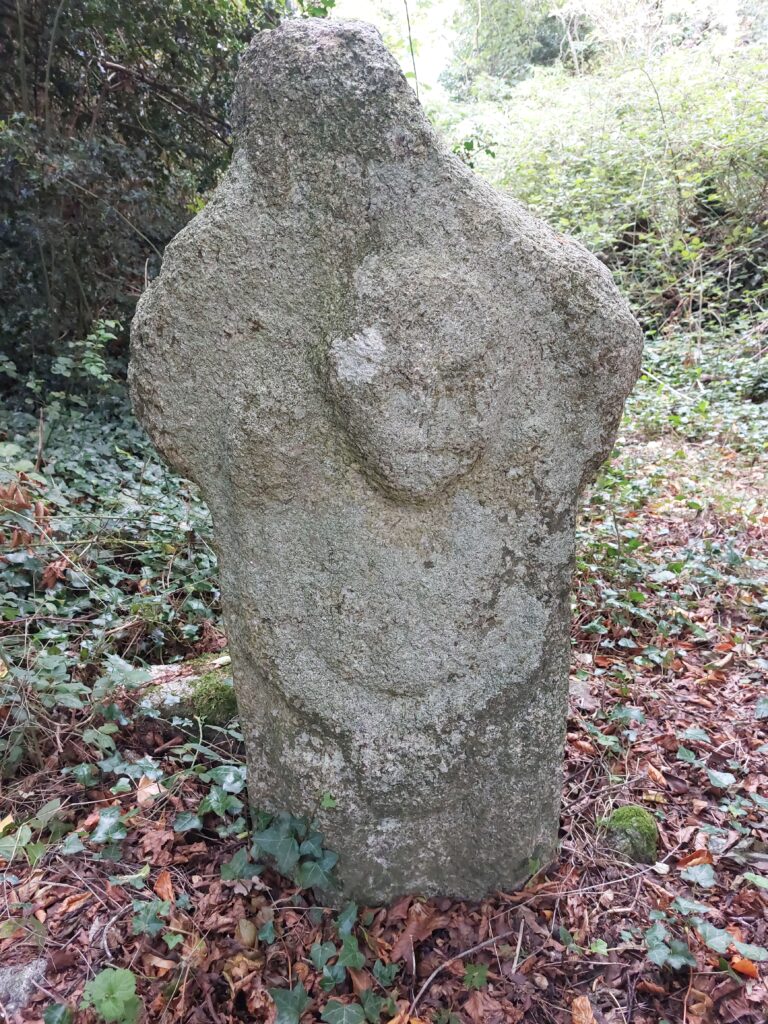 Brendan tells us the stone is connected with other stones or high crosses in the area, in Kilgobbin Cemetery and Kilturk, and are noted in Grose's The Antiquities of Ireland. He has been told it's dated to either 1500 or 500 AD. If it's a real Sheela it would be late-medieval. We wonder if the 3D Sheela Project has investigated this. When we tweet them later that day they tell us it's an early Christian cross. The circle on the reverse has been revealed under 3D scanning to be the head of a spaceman-like figure and the Sheela is not in fact a Sheela. So our hunt* for 'proper' Sheelas continues and where better to head than the county with the highest concentration of Sheelas – Tipperary.
*Author's note: during term time, as we're all educators of one sort or another, finding the time when we can all adventure at the same time is tricky, so some of these adventures may contain fewer than the three original Gees, or the odd honorary Gee to make up the numbers.
Bibliography
Daly, James F (1961). Curative Wells in Old Dublin. Dublin Historical Record. Vol. 17, No. 1 (Dec., 1961), pp. 13-24 (12 pages). Published by: Old Dublin Society. https://www.jstor.org/stable/30105146
Grose, Francis (1791-5). The Antiquities of Ireland. Ebook available.
Grose, Daniel, (1991 edition). A Supplement to Francis Grose. Edited by Roger Stalley. Published by the Irish Architectural Archive.
Roberts, Jack (2018). Island of the Sheela-na-Gigs. Bandia Publishing.
Roberts, Jack (2009). The Sheela-na-Gigs of Ireland, an Illustrated Map and Guide. Bandia Publishing.