About the Wild Gees
Welcome to the Wild Gees. We are Sinéad, Miriam and Gill and this blog is about our occasional travels around Ireland unearthing the sometimes hidden histories, prehistories and mythologies of women.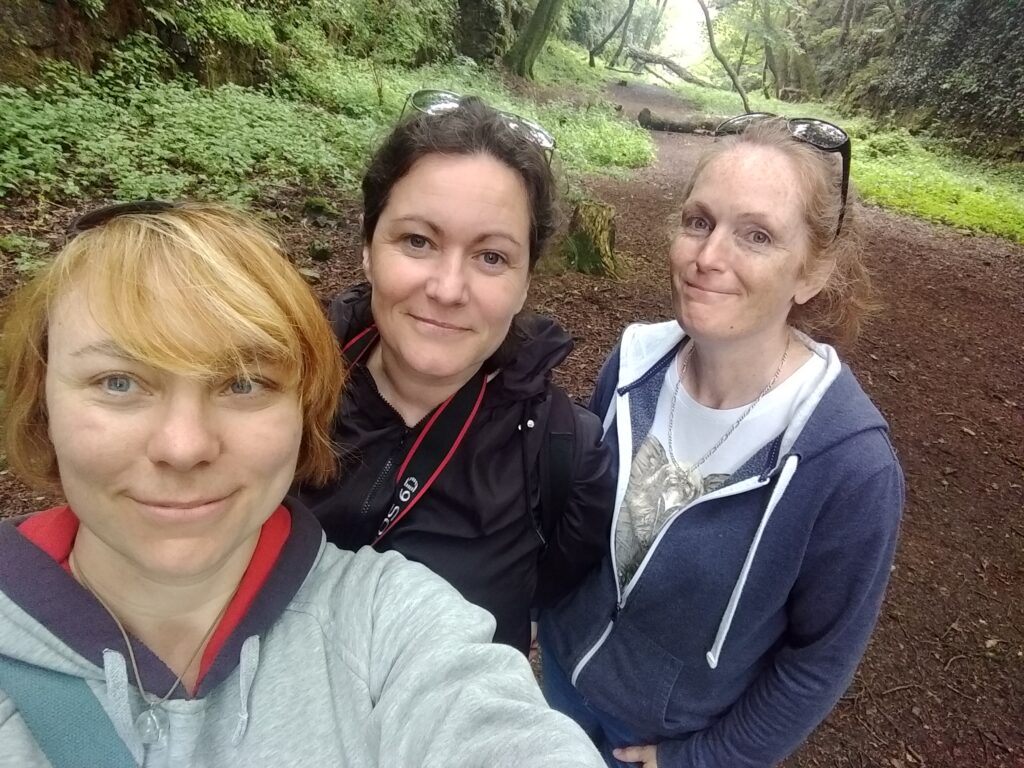 The kernel of our first road trip arose from a conversation between the three of us earlier in the year. Gill had been to the National Museum and bought a Sheela-na-Gig chain in the gift shop. "What's a Sheela-na-Gig?" asked Miriam. It was fair enough that one of us had made it to this side of 40 and never heard of the Sheela. We weren't taught about them in convent school in the 80s. Michael Ryan, then director of the National Museum, referred to them as "a footnote in history". No one is entirely sure what these stone carvings, dating back to the 12th – 16th centuries, were meant to be. There are many theories: a fertility symbol, a warning against the sins of the flesh, or for protection, to ward off enemies or misfortune. And what do they do, these Sheela? They spread their legs, dig their fingers into their gees and have a good aul rummage.
Gig (in Irish gídhe – pronounced 'gee') could be the origin of the Dublin slang 'gee' for female genitalia, and the inspiration for the Wild Gees. So we bought a map and started planning our route to see as many Sheela in the wild as we could. Our original plan expanded to include limestone vaginas, warrior queens, goddesses, hags, writers and the women of 1916.
The plan was simple: Miriam would do the driving, Sinéad would take the photos, Gill would write notes and we'd turn it all into a blog when we got home. Miriam managed her part of the trip pretty well, but Sinéad later discovered that her lens had been damaged so wasn't happy with the quality of the photos. Gill had taken an abundance of notes, but they were entirely illegible to anyone but her, and even then it was tricky to decipher. Then life got in the way and we weren't able to give it our full attention until many months later.
We're sharing the story of our first Wild Gees road trip (a squiggly route from Dublin to Sligo) as we hope it will give you some ideas for a trip of your own. We intend this to be the start of a series of Wild Gees trips we will try to fit around work, study and mammy-ing (and pandemics).
In the meantime, we'll be sharing some of our gee-related musings on the blog. This is an inclusive project exploring untold and under-told histories and myths. Queer and trans women's stories are the least told of all so we will be seeking these out and sharing them.
Summer 2021 update: With restrictions easing and all of us vaxxed, we've finally been able to meet up for some Wild Gees adventures. These have been a series of day trips rather than a full trip as we're still a bit wary of travel but we managed to fit quite a lot of gees into these! Rather than group by days, we've written about some of the themes that emerged over those days. Women's histories, mythologies and prehistories are everywhere in Ireland, if you know where to look. We hope our recent adventures give you some ideas for discovering some yourself.
With thanks to mintybyname for the graphic artwork on the site